My glasses came today! I was kind of pissed that they didn't tell me when they mailed them out, but they arrived safely, and I will definitely order from them again. Matter of fact, both Ti and Nick and thinking of ordering from them too.
I think they look rather sharp and make me look more fashion oriented than I actually tend to dress. XD I love how they contrast with the blond too. It's a little disorienting walking around with them, since they are a big step up in prescription than my old glasses and my depth perception is a little bit off at the moment. I keep tripping because of the fishbowl affect. XD;;
Anyway on to the photos since I know ya'll want to see how they look. ;D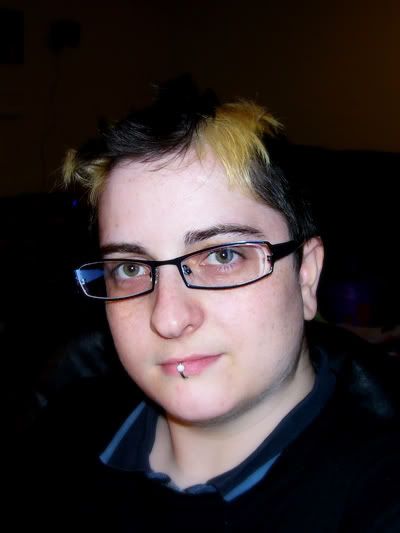 And compare with my old glasses (and old hair ;D):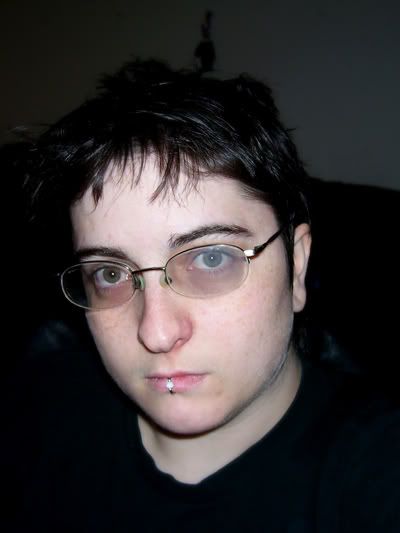 Even though I was annoyed at the lack of information regarding shipping, I will be ordering from them again. I'm ordering a matching pair of sunglasses, probably tomorrow, and a back up pair of frames next month, just in case. The quality is excellent, and the customer service is decent.
I went with the basic $25 glasses, the thickest of their thin plastic lenses, nothing extra, and I can say with full confidence I'd have paid about $150 for the same pair at LensCrafters or a similar eyeglasses store. We went to the mall briefly this afternoon so that Nick and Ti could get a feel for the kind of frames they wanted for themselves, and I saw a pair like mine in red, priced at $159 + tax. Same shape, same material, but a different color.
In case you can't tell, these are the frames I went with. They are a bit darker in person, as I think you can see but they are a lovely dark shade of blue.

If you want to order from them (Goggles4U.com), and can't figure out something, I'll be happy to help if I can. And, one last pic cause I liked how it turned out. X3