I cut my hair today. It had been getting rather shaggy and I was starting to sport an accidental mullet. So after an allover buzz, and a trim up top, I'm looking more like my regular self.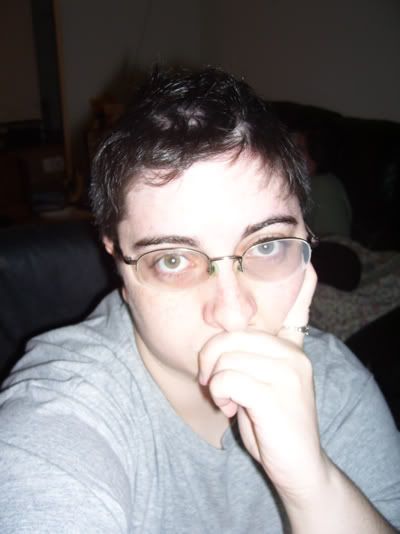 Then I decided that today was the day I wanted to do my skunk stripes. Given the natural haircolor, and my sensitive scalp, I didn't intend to try and go all the way platinum. So, I put my hair into clips in the center and tried to make two even stripes on the side. Then I mixed up the bleach and applied it to both stripes.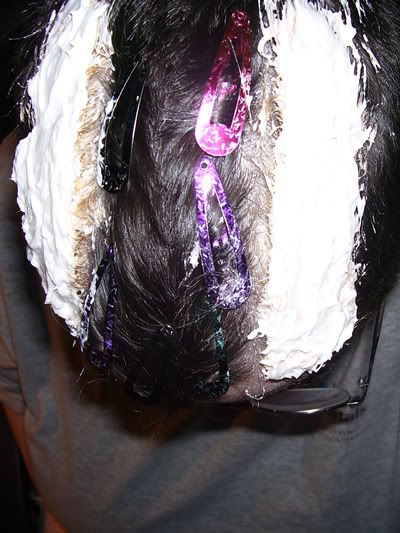 It's not perfect in the back but I was more concerned with a nice straight line on both sides. I'm not by any means a professional, so I know it would have looked better if I'd had a hairdresser do it, but it's cheap this way, and if I don't like it in the end, it's nobody's fault but my own. So, after washing all the bleach out, and applying a little spiking glue, I took another progress picture.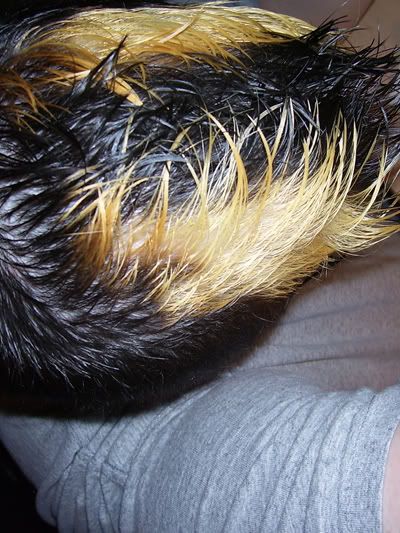 You can see how it's kind of choppy in the back, but I managed to get it lighter than I expected. It's a nice almost natural blond in the front and for most of the stripe. It just gets more orange and choppy at the back. It's light enough that it should take color pretty well, so I may pick up some temporary dyes in blue, green, and pink next time I can get to a beauty supply store. I also still have enough unmixed bleach to do one more go, so I can maintain the stripes for awhile. Roots don't bother me, but I mean that I can completely re-bleach it again should I want to. I might also bleach spots into the rest, like cheetah spots or something.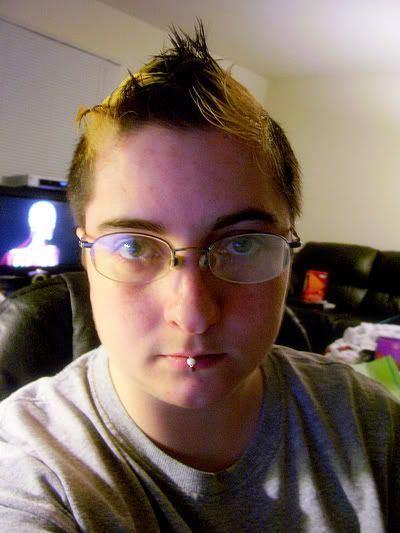 My funny cowlick makes it sit a little weird in the front but I'm pretty pleased with it in general. What do ya'll think?