Le Gasp! I predicted, fairly early into the day (around 9am) that this was going to be an awesome and possibly EPIC day. I was totally right. It started off a little weird but that's a story for another day to be joined by a rant, which I don't feel like launching into right now.
So we (Christy, Michael, and I) took the bus down to Pembroke Mall and it was pretty nice. It was rainy off and on and I picked up a mini-umbrella shortly before we got on the bus, which I carried around all day and only opened like twice, maybe three times. We ran all over the mall like little kids hopped up on sugar with no nap in sight, and it was awesome. Kelly's Tavern was our lunch destination where I had a delicious club sandwich toasted and served on decorative toothpicks, somewhat like a shishkabob, and a caesar salad for my side, with a strawberry milkshake. Mmmmmmmm..
Then we went into Claires and I saw these adorable star earrings that were marked down to like $2, which was too great a deal to pass up, so I got them. I put a blue star in my left ear, and a green one in my right. 8D
Then we went next door to Hot Topic cause I needed a new wallet (my batman wallet broke!) and I wanted to see if they had the semi-permanent hairdye in blues, greens, and pinks. I found these awesome shoelaces first, and since I've been looking for the right pair of shoes, for, oh a few months now, I snagged them, to decorate, whatever shoes I ended up getting. They're little happy popsicles! And the sad bitten-into popsicle. Yay! And there's little clouds and rainbows! Wheeeee!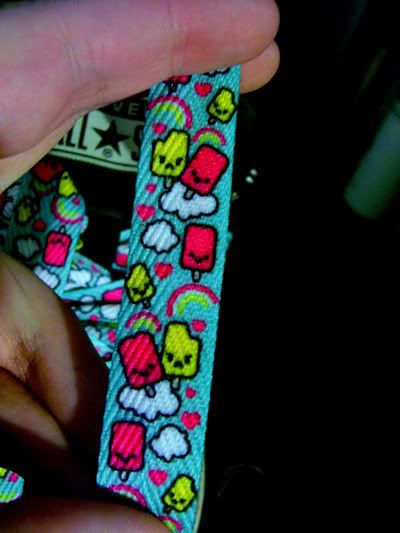 And then Christy found the hairdye! The pink was very tempting but they only had the waterbased, lasts like 3 washes hot pink, so I went with blue, since there was a 4-6 weeks dye in a lovely shade of bright blue. I haven't used it yet but I probably will tomorrow. I was so spazzy I dashed right past it when I saw the brightly colored shoelaces.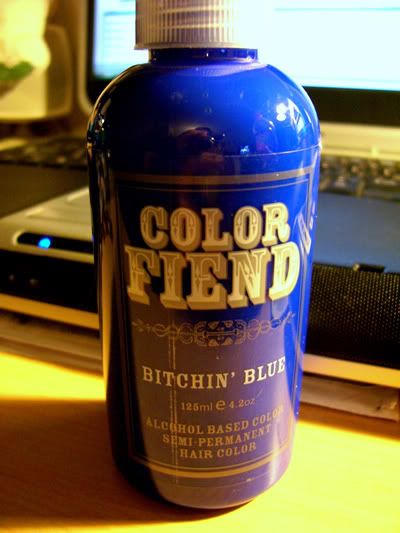 And then I found the wallets, again with Christy's help, cause apparently when I'm that hyper I'm also BLIND. They were like right next to the hairdye, and very very visible. I of course got the Domo-kun one, because I love Domo. Now I just need the Domo beanie! Wheee!
The stuff in Hot Topic wasn't on sale but with my Military discount it was awesome. 8D
And now the epic story of my shoes. I am one of those weird people that generally only likes to own one or two pairs of shoes at a time. I currently have.. three pairs of sneakers and a pair of flipflops and that makes my brain explode. That's more shoes than I need. BUT ENOUGH OF THAT.
These are my current pair of shoes, that I wear like every day, and have for the past three years. As you can see they look rather rough now.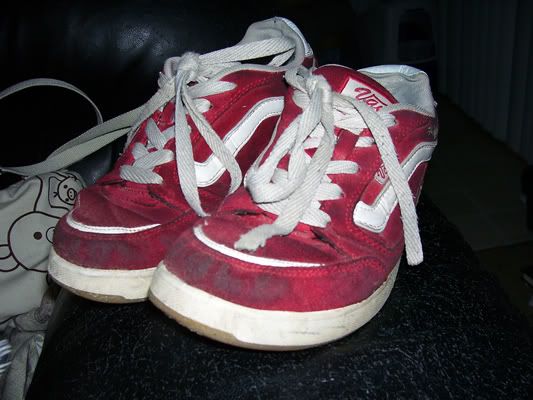 And, this is what they USED to look like! What a contrast!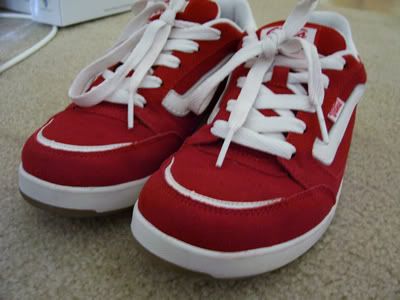 They will probably last another year at least until they are just too ratty to keep. As is, they're my OH NO BAD WEATHER shoes, or my 'Oh, I need to throw on some shoes really fast and dash over to the store.' shoes. I did try to get a second pair of shoes, a bit over a year ago, but they never properly broke in. My first Vans were insanely comfortable and never HAD to be broken in. My second pair, pictured below, are the most uncomfortable pair of sneakers I've EVER worn. I keep them because they are pretty and I can wear them for short bursts if I'm not doing a ton of walking. Plus they were $50 and I hate wasting money.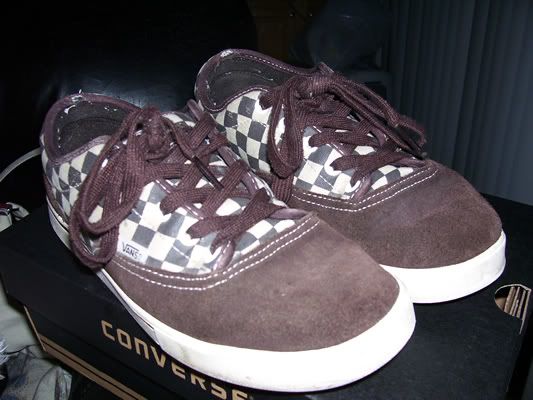 They're really pretty but, one day I was walking over to Christy's, and the backs on them gave me insane blisters and popped them within a block and a half of walking. I kid you not. I thought they were already pretty well broken in at that point too. So, they're still in great condition but I do not wear them very often if at all. So, I've pretty much been in the market for a good pair of sneakers since about when I got these.
Today, I looked around in a few shoe stores and, I WANTED these shoes! Unfortunately, they had only one pair, a size 11 in Mens. D: No way, could I wear that shoe, no matter how much I would love to, cause my feet are way too small. I'm sorry for the size and quality of the pictures but I took the pics with my camera phone.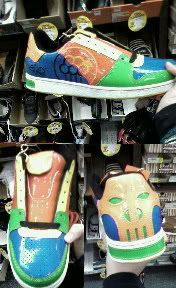 So, we moved on to a couple of other stores and then hit Kohls on our way out to the Barnes and Noble accross the street from the mall. Where, Christy pointed out this awesome Batman shirt, which was on sale for about $10 instead of the normal $18. It's FUZZY.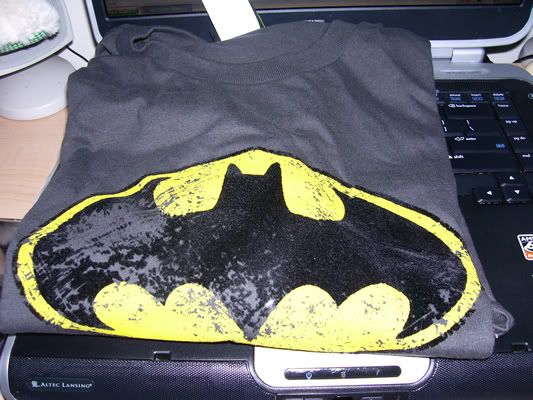 And then we wandered through shoes and I found THESE. On sale for $35 (rather than $65) and I couldn't resist. I tried them on, and they were so comfy and fit so nicely, and I just couldn't resist. I needed some new shoes and these were perfect.
Seen here with my AWESOME shoelaces!
And even after all this splurging (HOORAY SALES!) I still have money left over for groceries, which is not an accident. So, after we finished shopping we were tired and sore. We went over to the Barnes and Noble, and then dashed next door to.. a music store? I can't remember the name. And then we ran to the bus stop to catch our line back to Christy's place. We ran through some rain but I didn't bother to get the umbrella out, cause the worst of it was over pretty quickly, and it's not like we're made of sugar. It was warm and sunny but also raining. The bus ride was pretty uneventful and we stopped at Food Lion for some caffeine and then settled into Christy's for about a half hour, to an hour.
Then we walked down to San Jose's which is about halfway between Christy's apartment and my apartment, and met Ti Chan for dinner. Ti had enchiladas, Michael had a quesodilla, Christy had delicious looking tamales, along with a BEER THE SIZE OF HER HEAD! I took a picture with my cellphone but it didn't turn out.
So.. that was my EPIC DAY OF AWESOME! YAY! It was a wonderful day, and I was too tired at the end to type all this out. @_@ Best Tuesday ever!