I finished up on some commissioned jeans today. My fingers are a little tender from working with the thicker denim but I think it's well worth the effort. The customer is a repeat buyer, and I am very confident that she will enjoy the results.
She opted out of back pockets, as you can see from the photos. I don't put them on most pants unless the buyer wants them, since back pockets have no practical value on doll clothes. I mean they are a nice detail, and can add to realism, but I like to focus on other details, generally. Anyway, both pairs of jeans are below.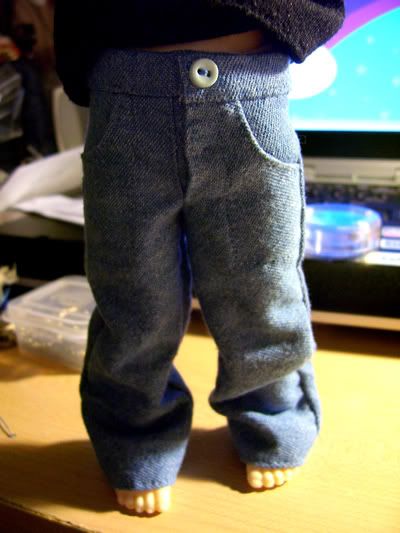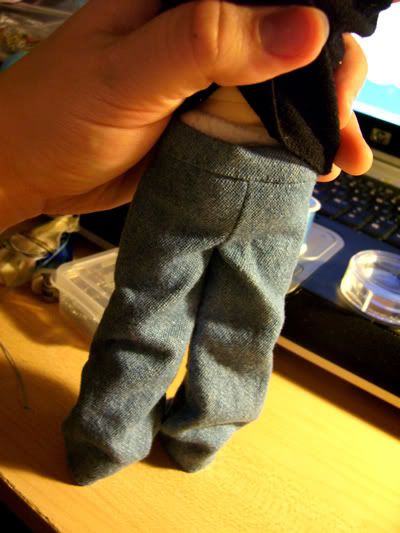 And, the heavier-weight denim, a dark blue that is a little bulkier as it's human-scaled.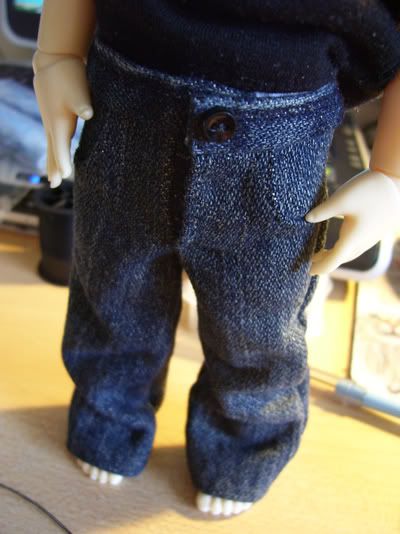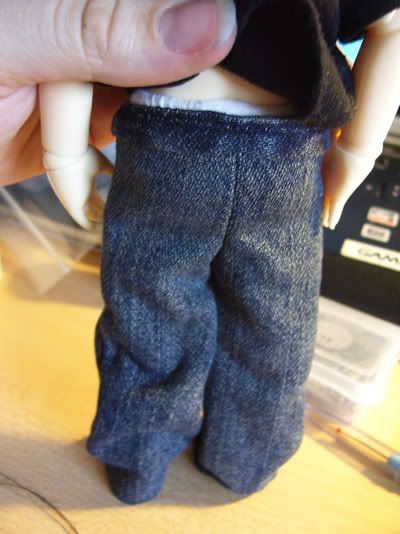 It's my policy to show the final product before accepting payment, which is why I have pictures of the back as well. It goes to show the consistency of my quality.
Anyway, I also finished up the blue and green jacket for Ro. I got a zipper the other day when I went out with Christy and Rissa. So, now Ro's jacket is complete! It's not a separating zipper, but It will easily slip over anything so I'm not really concerned about it. They didn't have a separating zipper in any shade of green, that wasn't 20+ inches, so I improvised. I'm fairly pleased with the results.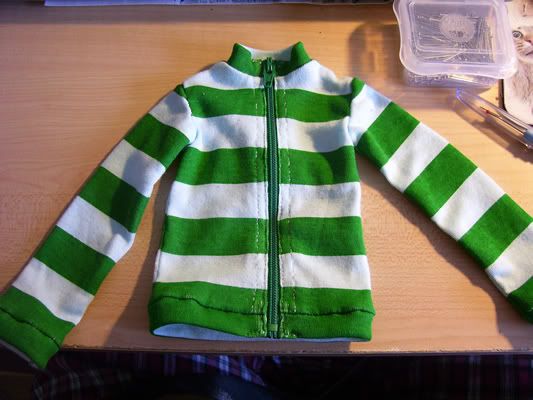 Next, I'll start sorting out the details of Myrai's commission, and then get started on that. Things are going well so far, and aside from a mildly tender index finger (which I use to force the needle through the thick layers of denim), I'm feeling pretty good. I'm tired, but I feel fairly happy. As soon as I receive payment for these pairs of jeans, I'll mail them out, and I can also order my new pair of glasses. I'm looking forward to it. And now, I'm going to call Christy and see how she's doing today. :) Hope everyone has a nice afternoon!