I spent today with Christy and Rissa. It was really nice, and I had fun. We hadn't seen Rissa for awhile due, to her being busy getting ready for her baby, and trying to sell her house, before she and the hubby move to California, to his new duty station.
At one point during the day, Michael let us know that he really liked Ichigo's visor, and would like a pink one for his Ken. So when we went by the JoAnns we kept an eye out for something fun pattern-wise. After some looking we found a very cute marble print with stars, and got a little bit. Michael had asked for some glow-in-the-dark beads instead of the decorative buttons, and we ended up getting some really cute star buttons he liked as well. Below, you see the result. :3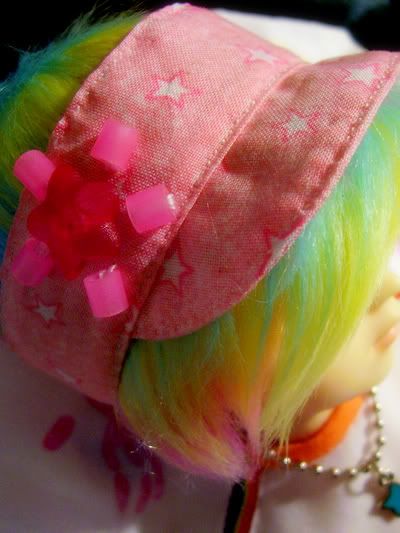 I'm hoping to give it to him tomorrow. :3 Michael is a very sweet kid, and I'm glad to make something he'll enjoy.