Okay, so last night I did go ahead and bleach my hair again, and then re-dye it blue. I used the hardcore bleaching kit that can theoretically bleach black hair to platinum blond. I didn't leave it on long enough on the sides and back so it's darker there. The top had gotten so light I was afraid it'd fall out, so I went ahead and washed out the bleach.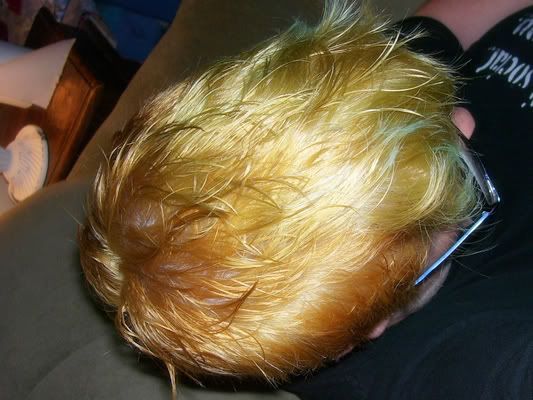 You can see that a small amount of the blue color stayed even with the intense bleach. Once my hair was dry again, I applied the blue all over. I had Neil point out the spots I missed in the back so I could get all over coverage. I let that set for about a half hour, maybe 45 minutes, and then washed that out, and had this!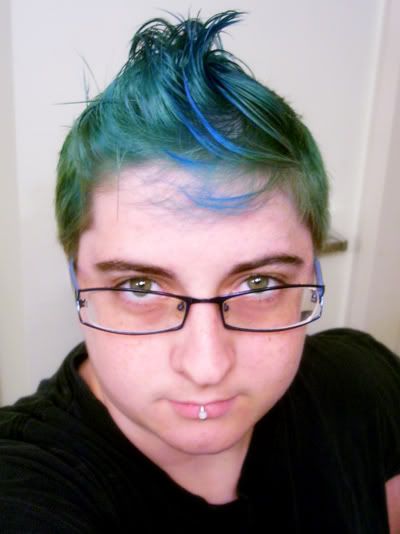 It's kind of gradiated because of the way it bleached. It's mostly blue on top and fades to a pretty bluegreen on the sides and back. I like the shade it is on top best. :3 Though I found when I styled it today that it's too long and thin to properly fluff up, so I'm gonna trim the tips a bit soon, and re-shave my sides, to about a half inch.
And now, on to doll related things! I was saying that I was going to get a dream outfit for one of my teeny boys, and I made the exchange today at the Barnes and Noble in the mall. :3 It was this gorgeous outfit, the Heisejinyao Yo-SD gray and white High Wizard outfit, seen below modeled on Seanan.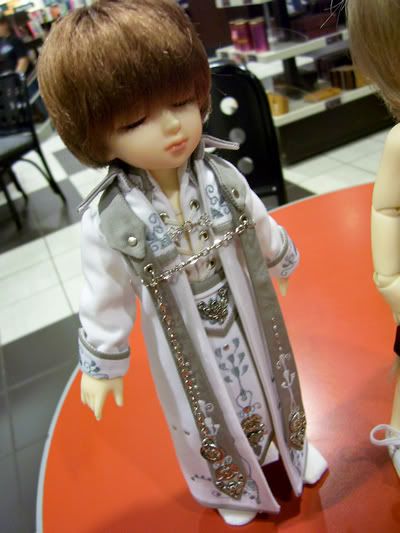 And one of him standing next to Phelan: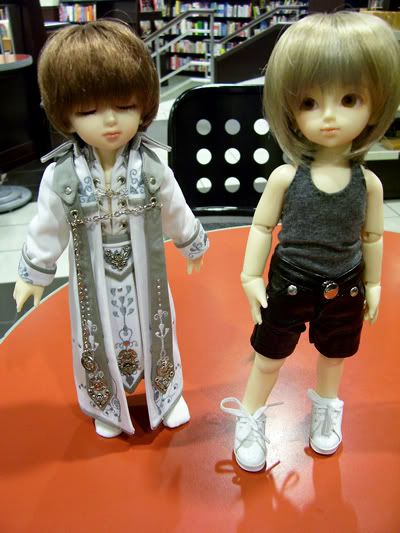 It's a snug fit, and you can tell it was tailored to fit very well, and very tightly. This is THE best made outfit I own, and the detail is incredible. Photos can't do this justice at all, seriously. I would LOVE to get my hands on the red and black version for Phelan. I also need to get him some black stompy boots. I want white ones for this outfit too. So, if you know where I can find boots like
these
, in Yo-SD size (preferably in black, and also in white), please do let me know.
And I promised Syrinxfox that I'd post a picture of Onigiri sitting on his pillow with his little hands, so here you go. :3 He's been playing with that little rainbow pegasus since I brought it home.