Hey wow, this is my hundredth post on my family blog. How awesome is that?
Today has been a pretty pleasant day. I got my alimony this morning as opposed to on the first, since it's set up to sync with the military payday, and they get paid early cause the first is Labor Day. So this morning we headed over to the store early about 7 am, to pick up something for breakfast and get caffeine. I've gone without caffeine for about a week now cause money was a bit tight and I'd rather be a little uncomfortable without my soda, than very uncomfortable without enough food. So caffeine and breakfast were a big priority for us. XD
Then, as breakfast wore off, half past noon, we walked down to San Jose, a lovely Mexican restaurant with great food and excellent service. Neil met us up there since he got out of work early, and after lunch we headed over to the mall. We hit up Claires, and Build-A-Bear, and hung out for a little bit at Barnes and Noble. Then we were all getting a bit tired, so we headed over to Walmart so I could pick up a couple of things, after which we headed home.
At Claires Christy found this awesome rainbow sticker pad for a keyboard and I just had to get it. There are several keys I didn't cover for the sake of being able to see the function commands for the upper keys, but I'm really happy with how it looks. They're sort of gummy in texture, but more durable.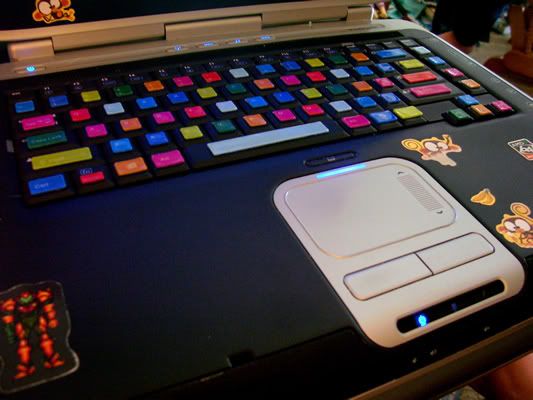 Now combined with my
awesome rainbow desktop
, I have the most colorful laptop I've seen, sort of a Macbook, or custom built something-or-other. I also picked up a bleaching kit for my hair, and will be re-bleaching that tonight. I will probably do the blue tonight too. I'll post pics tomorrow or tonight, depending on how pleased I am with the results, and when I finish up.
And, tomorrow I have something awesome to look forward to. I'm getting a rare-ish outfit that I wanted for my Yo boys when I first saw it, but didn't have the money for. It's a dream outfit I thought I'd totally missed out on, and I'm really really excited about it. X3 I should be receiving it tomorrow evening, making the exchange in person. I'll definately be posting pics of one of the little ones in that as soon as I have it in hand.
I'm also really pleased with what I believe is the final expansion pack for the Sims 2. It's Apartment Life, and I've only tooled around with it for a couple of hours, this morning since it's brand spanking new, but I'm thrilled so far. I just want to figure out if it's possible to own and live in an apartment complex, or if I absolutely have to rent from a Townie. I wanna set up one of my favorite sims as an owner/manager living in the penthouse. And, now I'm off to look up other reviews and clues about this latest expansion. Rorek AWAY! *dons a superhero cape and runs off*