Okay so, I've been meaning to bleach and dye my hair for like.. three weeks now, and I finally got to it. Sadly, I had less bleach than I thought so once I'd already applied a bit in the middle I gave up and washed it out. It lightened it a bit in the front.
Quickie before shot, so you can see what my hair looked like before I messed with it.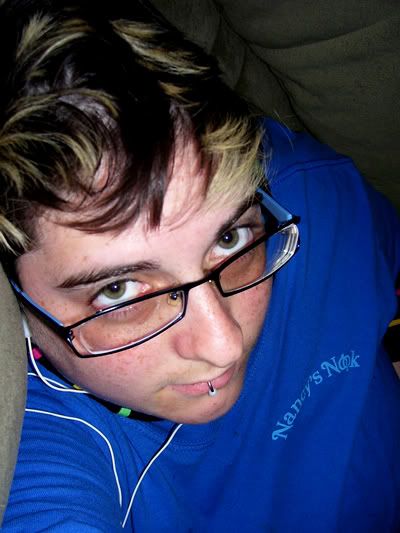 But, as I was saying, it lightened it up a bit in the top center of my head, like so: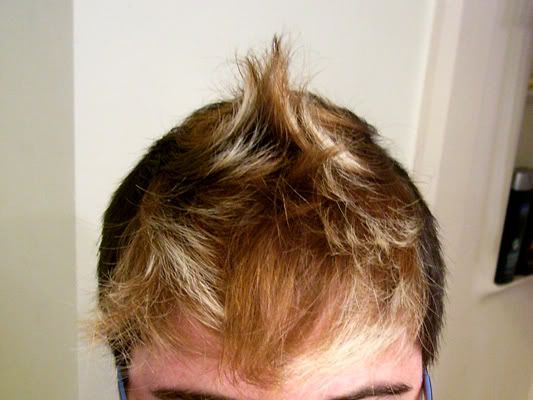 The parts I had that were already blond went platinum and kept the color best when all was said and done. It would have been okay that soft brown I suppose but I would have liked to go completely blond. I just didn't realize I didn't have enough bleach till I'd already applied on the top and center. So, I washed it out, dried it off, and took the above picture of the results.
Then once it had dried I applied the blue to the mohawk part, and let it sit for about a halfhour to let the color set in. Once I washed that out, I flipped it up into the ducktail and took this quickie picture. :3
It looks darker cause it's wet but you can see what I mean about the color sticking best at the tips. It looks like I frosted it blue. XD I'm pretty pleased. Once it dried fully I took one more pic to show off the final color. The orangey bits went greenish, and the white went blue.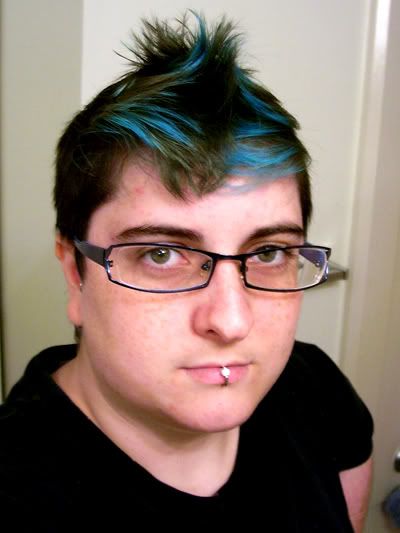 All in all I'm thrilled. X3 I figured that the blue washes/fades out after a few weeks so it doesn't hurt to put it in there for now. :3