Holy cow. I fell under a migraine-rock and don't remember much of the last two weeks. It should be safely over. I was reminded by Osaka that I frequently get migraines at the end of a vial of testosterone, that are resistant to medication, and now that I'm in the new vial it should even out with my
medications
.
In the mean time I am vaguely aware of having interacted with people in person and online but my brain just dumped everything in the "shred/burn" pile so it's all a bit hazy.
If I have spoken to anyone about anything important, a reminder would not be at all out of bounds. I don't think I committed to anything other than making a hat in trade for a pre-ordered copy of Pokemon Moon via my brother Logan, but I would like to be certain.
Ashbet, I emailed you when I did the thing that you asked for, but if there was anything else I was supposed to do, or bring, or schedule (like another get together) if you could please remind me of details I would be super grateful.
My technically common-law brother J was out of town for work this last weekend so Faythe was over with us from Thursday night to Monday evening. We put her Netflix on my PS3 so that when she is over we can watch things together. Monday we watched the new The Little Prince, and the animation was gorgeous all over. I wasn't familiar with the story so there were some unexpected feelings but it was a great film, and when it comes out on bluray, it will be coming home. When Zootopia drops on Netflix at the end of the month I will ask Faythe to watch it with me. I have heard nothing but good things about it.
Honestly for the past two weeks I can only remember taking medicine, sleeping, and brief painful stints of sunlight. I am aware that I DID other things, and enjoyed a visit with Ashbet but I don't remember anything else.
I'm aware that Osaka and Ringo went to a beautiful quilt show and posted lots of lovely photos and specifically I remember two bear quilts from that post, but everything else is kind of.. gone. I will go and re-read things while I am reasonably coherent.
This evening after Mom got home from work, and a quick Costco run, we went by Academy Sports and Outdoors and got two pairs of shoes on clearance. Mom got new sneakers, black, and grey with red highlights, and I got a pair of slides (Mom called them slippers, regional variation?) that are stone-wash denim with memory foam insoles. They are reasonably fashionable, and probably very adult looking but I don't care because I have shoes between flipflops and snow sneakers now. When I go back to school proper Mom is willing to buy me a second pair of shoes so that neither pair blows out in 6 months to a year.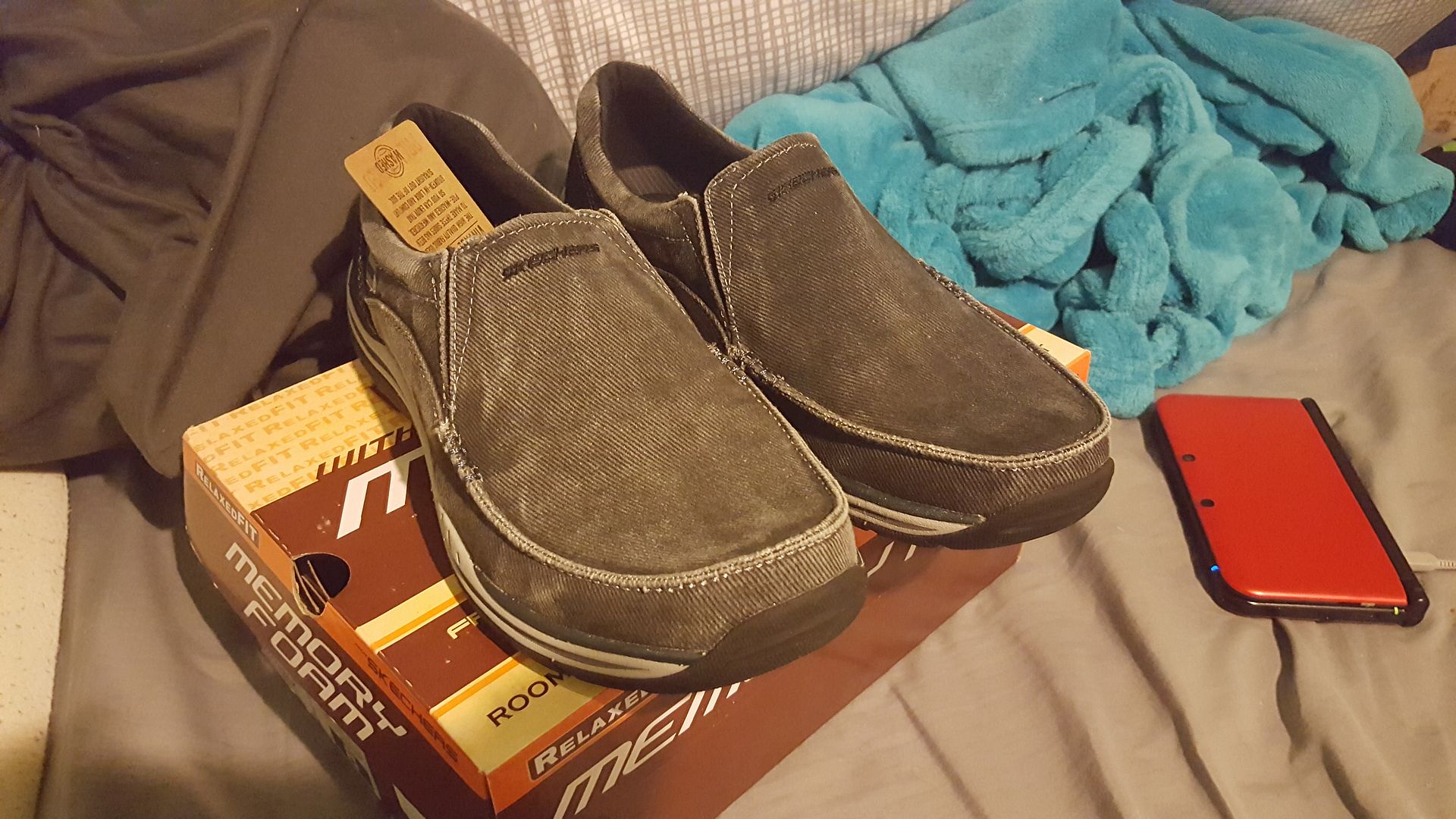 Pictured with my charging 3DS, and my blue fuzzy blanket.
I am also doll-sitting two dolls for Logan, both of them elf-earred boys. I will rummage and see if I can get them, dressed, wigged, and eyed and take some photos. Logan has had them in the closet for 3 years "for sale" with no bites and wanted me to give them some love. If I do want one or both he and his wife will discuss bartering some reasonable exchange of crafted goods for one or both dolls.
The little one I've never seen before, it's from Popo doll, and the other is a B&G doll but I'm not sure which sculpt.