So... if ya'll remember, I discovered a cavity in one of my rear right molars (on the top) way back when I was living in Texas. I had other things on my mind when I started my medical and dental insurance, and I forgot all about it until about two weeks ago.
Suddenly I could feel it with my tongue, and the tooth was tender to the touch. It got progressively worse and more sensitive with my pain dialing up to a 5 on the doctor pain scale. Wait no scratch that. After viewing this chart, it was at a steady 8.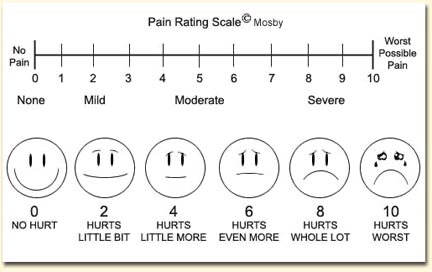 Anyway I went to the dentist finally to get it looked at, and I need a root canal. I've been referred to a specialist because of the location of the bad tooth. It's hard to get at because it's on the top and in the very back. By the way I DO have wisdom teeth. Who knew? Not me. They apparently came in finally some time in the last 3 years.
Anyway.. I was given a prescription for penicillin, because I am NOT allergic to it, and a script for vicodin to manage the pain until my root canal. And oh boy does it work.
I took one today at work when my pain hit a 9 on that scale, my whole face was throbbing on the right side, and making facial expressions was excruciating. I don't think I have EVER been that cheerful at work. I mean EVER. I was the only one on register for about an hour, had the Head Cashier phone and all, long lines, and I was nothing but smiles and thank yous, and have a nice days. And I MEANT it.
In the morning I will be calling the specialist to schedule the root canal, hopefully for Friday or Monday, which are my days off, and then go from there. My dental insurance will cover most of it.
Incidentally, I posted this to my facebook, with the comment of this is me on Vicodin.