My Soom Shale arrived today! My hands are shaking a bit too much, and I haven't gotten any good photos yet. He doesn't have a faceup yet, but Osaka has agreed to do him up for me, once she's feeling a bit better.
I did have some great eyes on hand for him, and he's borrowing one of Ichigo's fur wigs right now. His wig shipped yesterday, so should arrive tomorrow or Friday.
This is the wig I've got coming for him: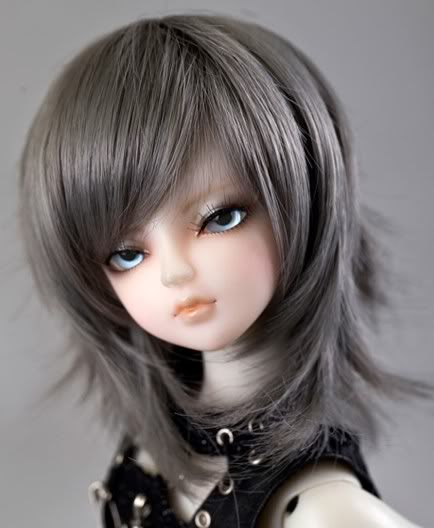 I wasn't expecting Shale to arrive today at all. My tracking never updated past the 4th, where it cleared customs at 5:31am. I'd had my hopes up yesterday and was REALLY disappointed when my new laptop cord arrived but there was no box from Soom. I mean I needed the cord, mine died mysteriously last week, and I've been borrowing Osaka's on and off as my computer has needed charging. But, I wasn't remotely excited, I was just overwhelmed with disappointment. So I had no expectations for today.
Which, is probably why I was still feeling a bit less than enthusiastic when I initially started opening the box. I mean I got over it real fast, but I was well into the box before I started to feel that new doll glow.
I'm not crazy about the unicorn parts in this scale. I mean there's nothing WRONG with them, but they don't charm me the way that Starshine does. I've set those parts aside and will come look at them again later.
After dressing Shale and playing with him a bit, I've concluded that his name is Apollo. I don't think there is any actual connection with the Greek mythology, but I brushed up on it anyway. :]
And now that my hands aren't shaking so badly, here he is. My apologies for his lack of faceup. That will be remedied shortly.
It's interesting to me, what differences there are, not just in scale, between Shale, and Beyla. The eyes are a slightly different shape, the lips are much lippier, and the face is longer but still rather baby-faced. I may do a side-by-side comparison between Moonbeam and Apollo once he's got a faceup.