So yesterday was Ringo's (Osaka and Pherret's son) birthday. He's been sick all through it, the poor thing. He'd about lost his voice from coughing by 3pm, and barely had the energy to eat dinner or open his presents.
Yesterday was also my first day off since I got my bed shipped. Osaka and Ringo worked on getting Ringo's room all cleaned up and organized so we could put it together. Yesterday we assembled it, Osaka and I. We started about noon, and finished close to seven I think. I left for about two hours around four, to ship off my Piccolo to his new owner, and to pick up dinner for Ringo, and the rest of us.
When dinner was done, and the bed was assembled, I shifted the majority of my things from where they had been, to all the storage under the bed. :] I also got my bookshelf in order, and cleared up one more storage tote.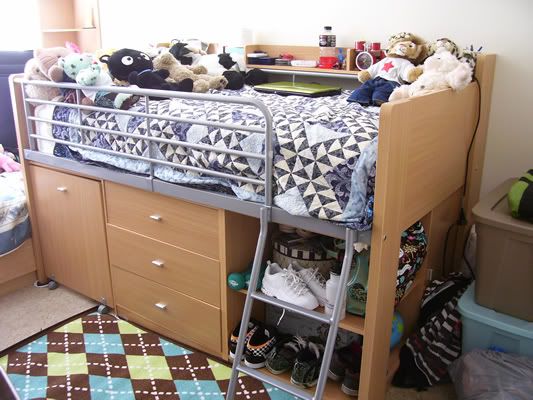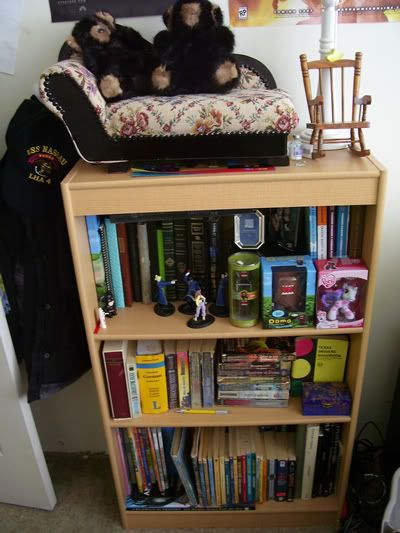 I'm pretty pleased with how it all turned out, and there is still room in the room for Ringo and me to move around and do stuff.
In regards to the Piccolo, I ended up trading him for a fullset Little Bear Bisou, with faceup, and faceupped sleeping faceplate. So, I'll still have a sleepy-eyed doll, but he can be openeyed too, and I have the littlefee boy I've been wanting since I got Sarabelle. The posing on those tinies is just incredible!