First, a photo of me with my new scarf. It took me about a week to knit it, all said and done. I started it back in January but I kept screwing up the striping, so I decided since it was self-striping yarn, I'd just go with it.
I wish it was a little longer but it's a pretty good length. It just doesn't hang as low as I'd like. It's made from a yarn that's about %50 wool and %50 silk. :] Pretty soft, and doesn't feel scratchy like some wool can.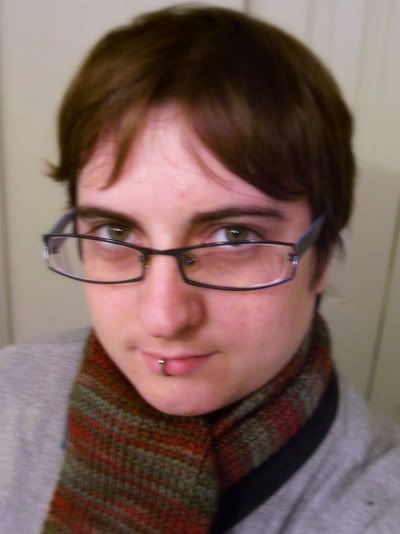 Second, it came to my attention that no one really posts doll photos anymore. Too true. Most of my friendslist are doll people and very few of them post photos, let alone TALK about dolls on their LJs anymore. I'm not complaining mind you because I like hearing the day to day stuff too.
Anyway, here are 17 photos of Ichigo. I made the net shirt and pink vinyl shorts yesterday (I think, might have been the night before) and have had the white tank top for awhile. :]
I apologize that some of the photos are repative but I liked these all too well not to share them. :]