I've been itching to take doll photos but my camera battery died permanently, so I replaced it, and then I just kept getting side tracked or straight up obstructed from doing things. e_e Anyway here is the second installment of doll profiles.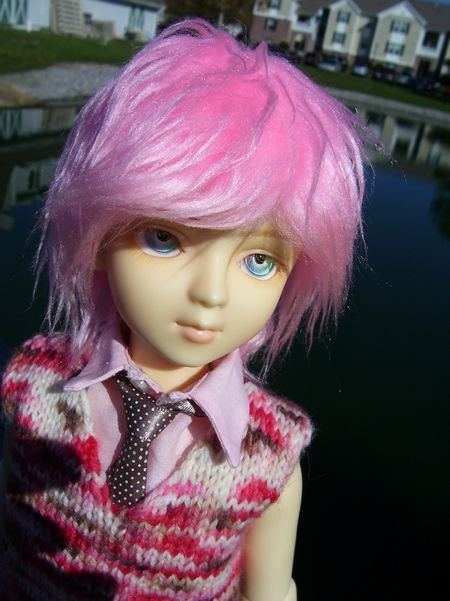 Name: Ichigo
Arrival Date: November 24th 2006
Sculpt Version: Volks Ko-Tenshi Tsubaki
Gender: Technically neither. I use male pronouns.
Face-up: Default
Blushing: none
Eyes: Soom 16mm Rainbow eyes
Wig: Fur wig by me.
Bio: Ichigo is an Angel who fell to earth, literally. Originally I had him written as a clumsy little thing that fell from the sky and had a hard landing. He's a mischevious thing, and also made of sugar.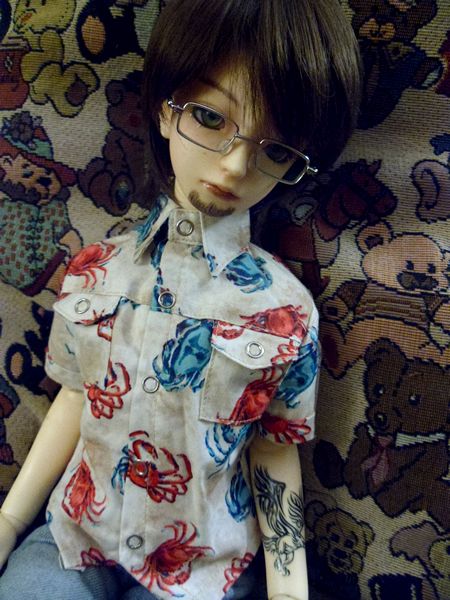 Name: Robbie Math Ciarach
Arrival Date: June 11th 2008
Sculpt Version: Volks School Head C on SD10 boy body.
Gender: Male
Face-up: By Osaka
Blushing: None
Eyes: 16mm MoC Hypnotic EK04
Wig: Leeke something..
Bio: Robbie is my self doll. He works from home, and is the father of Christopher Owen. Robbie is openly gay and will eventually be partnered off to a character named Marek, whom I have yet to find the right sculpt for. Currently he has an on again off again thing going with Avery. Robbie has four sisters the younger two having physical form (in MSD scale, owned by Faythe), as FaithAnn, and Rosalie.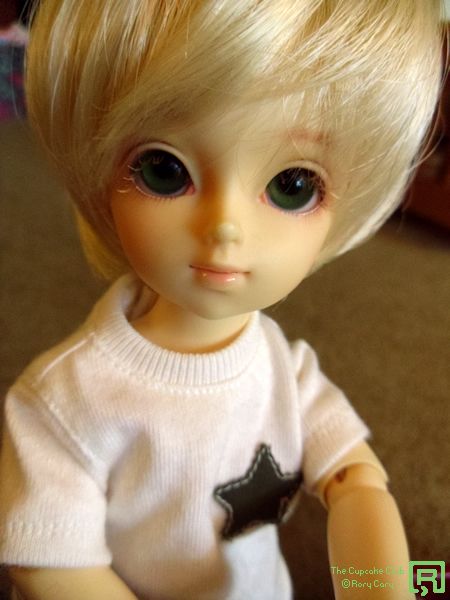 Name: Christopher Owen Ciarach
Arrival Date: January 10th 2007
Sculpt Version: Volks Tinatsu/Kuuta (Tinatsu faceup, I swapped lower torsos for a boy)
Gender: Male
Face-up: Default
Blushing: none
Eyes: Ko-Tenshi Tsubaki Default 16mm green
Wig: Leeke(?)
Bio: Christopher Owen has two Daddies was originally an idea I had for a series of children's books showing a little boy interacting with his two fathers doing normal family activities, because there is not enough literature out there in that vein. Similarly, Simon Oliver has two Mommies was meant to be the opposite gender version. Christopher Owen is Robbie's son but I have yet to unravel exactly how that happened. I've gone through a few theories.
Name: Adam Everett Avery (goes by Avery)
Arrival Date: April(?) 2008.
Sculpt Version: Souldoll Lune
Gender: Male
Face-up: Original default Souldoll faceup.
Blushing: none
Eyes: 16mm MoC Hypnotic EK03
Wig: I can't even remember. I bought like six wigs trying to please him.
Bio: Avery is mostly a mystery still. He took a long time to come together and all I really get from him is that he's a shamelessly charismatic flirt. Fun fact; I got his head in 2008, and his body in 2013, same as Robbie. He also has factory ear piercings, and wears tiny silver star earrings, that I picked up at a local shop that has since gone under.
Name: Earnán
Arrival Date: December 26th 2009
Sculpt Version: Soom Beyla *Human head*
Gender: Male
Face-up: By Me
Blushing: None
Eyes: 14mm MoC Hypnotic EK24
Wig: Leekeworld Kona 6/6.5 in Maroon
Bio: Earnán is a Phoenix boy who is from the same fantasy world as Starshine, Doran, Innis, and Moonbeam. He is most involved in Doran's story.