I'm beginning to feel more lively, finally. I shouldn't have been so surprised that I was healing slowly. I was told to expect slow healing both because I'm nearly thirty, and because of my general health issues. The procedure itself went fine, it's just been a slow road for healing. I'm nearly there, the top two holes are closed up and only slightly tender, and the bottom two while still open, are getting smaller and less raw each day.
I woke up today feeling a bit off and realized it was a migraine after an hour or two. I ended up sleeping most of the day, and am wide awake at 1:30am with little interest in sleep. The migraine is still there at the edges, but it's a sad little headache now, instead of a crippling ice pick through my face.
I've been wearing contacts for several months now, and I've decided that on days where I feel iffy, I should wear my glasses, since they are easier to take on and off. This means that I need to go and have new lenses put in my frames, to match my proper prescription.
I'm pondering shaving off my beard. Not permanently, but it's summer and my psoriasis is acting up, and so I need to wear all my hair shorter, to control flare ups. Maybe I'll just shave it short and go with the stubbly look. I don't like how my face looks naked, as well as I like it with a beard. I also need a haircut like woah. I have like 5 inches of hair on top. I could do a pompadour if I wanted to, I have that much hair.
I'm not sure if it's because the medicine is working or not, but I'm also finding myself more inclined to sew and craft, than I have since I started working full time. We (Osaka, Ringo, and myself) picked up some different crafting things last we were out together, and among them were the makings of a doll quilt. I sent my Mom a (camera phone) picture of the squares laid out like so: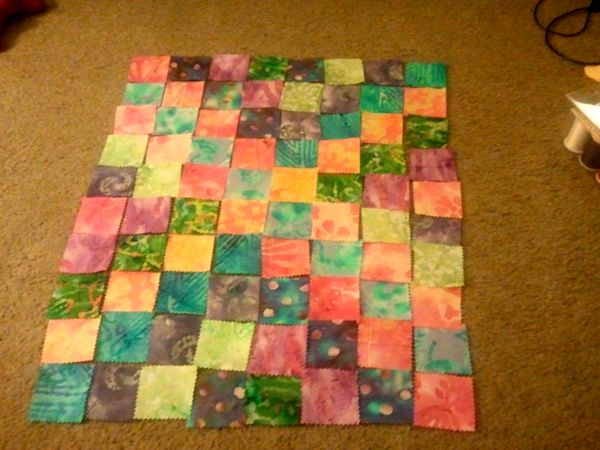 We also picked up some odds and ends and notions for jewelry making. I really miss crafting and I used to do it ALL THE TIME. I was home all the time so I filled that time with sewing and knitting, and jewelry making, drawing etc etc. I know I don't have time for ALL of that, but I'm usually home between 3-5pm. I have several hours I could be filling with that kind of stuff, especially since I generally leave the TV off till Osaka is home from work.
Anyway that's where I'm at and what I've been up to I guess. I hope that everyone else is doing well.