So, my lovely Byuri arrived on February 26th, just two days after shipping. The wig I'd purchased with him was out of stock when he was ready, so Iplehouse give me the money back in points for a future purchase.
So, here he is! I am pleased to introduce Tobias Ezekial Särkilahti. I don't know a ton about his character yet, but I know he goes by Toby, and can't pronounce his last name. I think he's a California beach baby, about 4 years old. That's all I have so far.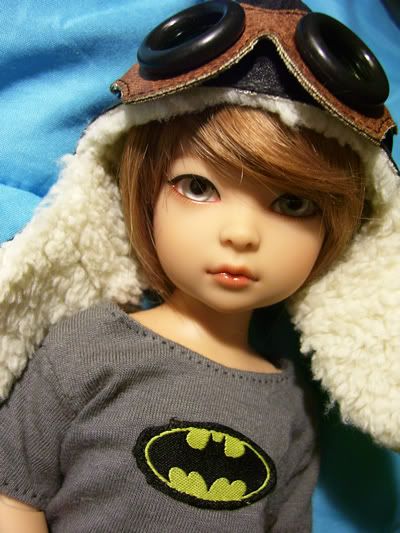 Also I did put Iplehouse Efreet on Layaway on February 18th (sent the second of three payments today). Nude with faceup. I don't know who he's going to be either, but I got him as a boy, in the light brown resin. I wasn't sure I'd posted about that, but I see that I did, two weeks ago, on the 18th.
Incidentally I'm two days overdue for my shot and I'm noticing that it's easier for me to think and articulate, and also that I'm more impulsive. Point of fact, I placed a second doll on layaway today.
I went to Denver Doll Emporium for some reason that I can't recall, and saw
Impldoll Cyril
. He's a baby dragon. I know Soom did theirs, but I like Cyril better, and he's only $145. So I got him, on a layaway (no faceup or blushing). I COULD have bought him outright, but I still need to pay my phone bill, so I'll probably just finish paying him off entirely after my last payment on Efreet, in two weeks.
I like him for the character of the little water dragon associated with Starshine and Moonbeam. My origin story for them is that Moonbeam is a young witch, who was attempting a bonding ceremony with her companion beast, a quiet but brave water dragon from the lake, and the ceremony took place just as Starshine (a shooting star) was flying overhead. Moonbeam, being a very young little witch, flubbed her incantations and ended up trapping Starshine in physical form as a Unicorn boy. That is precisely why he looks so cranky. ;]
I think Cyril would a great little Water Dragon companion for Moonbeam, but I never did settle on a name for him, so I'll have to figure that out.